July 1, 1957 – A.C. and Jean Arnett open for business in Lubbock with one account and one employee. They were the first food broker to enter the West Texas market.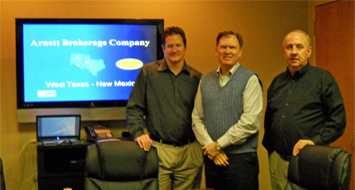 The company is now run by Mike Poteet-President, Mike Couch-Vice President and Jeff Poteet-Vice President. We have over 105 years experience in our administrative staff and are untouchable when it comes to sales execution.
1957-1974 – The company grew to 20 employees. Resident sales personnel were added in Albuquerque and El Paso to follow chain customers.
1975 – Lubbock, El Paso, and Albuquerque become one market – The Golden Triangle - and we still maintain people in all locations.
November 1, 1975 – Arnett Brokerage Company acquired The Burns Company of El Paso. Full service offices have been
maintained thereafter in all three major cities.
January 7, 1987 – A.C. Arnett deceased.
Today – Arnett Brokerage Company remains the only independent broker in The Golden Triangle. We are still dedicated to serving our customers and principals in West Texas/New Mexico market. We execute speed to shelf on new items, also work special order forms to book new items and promotions.